MHEDA members collaborate to provide solutions for tough challenges
By Steve Guglielmo
This year has been an incredibly trying time for our industry and the world as a whole. In a world with this much uncertainty, it's comforting for end-users to know that MHEDA members will always be there to provide solutions for even the toughest challenges. Whether providing expertise for a particularly complex need or being able to provide industry-leading solutions installed correctly and efficiently, MHEDA members can always be counted on to get the job done.
Many of the following Sales Success Stories took place in a pre-COVID-19 world. However, even during this pandemic, MHEDA distributors and suppliers are still working hand-in-hand to provide unparalleled service to their customers. By virtue of the strong cultures they've cultivated, MHEDA members were uniquely prepared to deal with these trying times without sacrificing quality. If you have a case study or Sales Success Story that you'd like to share, please tweet us @MHEDA_Journal or submit your case study at connect@mheda.org.
AK Material Handling Helps Second Harvest Realize Vision of Expanded
Operations
Second Harvest Heartland is one of the nation's largest hunger-relief organizations. The Minnesota-based charity has been working with AK Material Handling Systems' Senior Systems Design Specialist Jerry Fredrickson since 2008. Jerry worked with Second Harvest to provide CAD layout design services and best utilize its existing warehouse space. He also helped design their 65,400 square-foot Maplewood facility, maximizing their pallet storage locations in their dry storage area, coolers, large freezer, and above their shipping and receiving docks. Later, Jerry helped them maximize space in their Golden Valley facility.
So, when Second Harvest Heartland began planning for a new facility, they knew they could count on Jerry and AK to get the job done.
"In 2017, they started to plan for their expansion into a facility that would combine their warehouses from Maplewood and Golden Valley and meet their growing needs for the next ten-plus years," Fredrickson said. "In the Spring of 2018, we started the layout and design of their new 233,000 square-foot facility incorporating all their existing racking for the new dry storage area, large freezer, two coolers, and a future cooler for their newly acquired site in Brooklyn Park. It was a complete renovation into a state-of-the-art facility."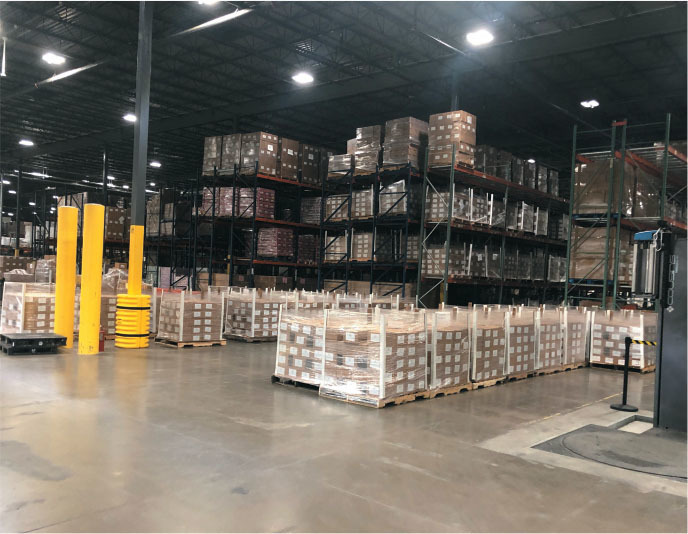 Jerry and the Design Team at AK worked with their supplier partners at RBI (Rack Builders, Inc.) for the new freezer and coolers. The rest of the facility required AK to figure out how to best fit all of their existing racking into the new facility to minimize any additional expense of purchasing additional racking.
"The confidence that David Laskey (Director of Enterprise Efficiencies and Facilities Management for Second Harvest) had in me to make this turn out perfect to meet his expectations really makes this special to me," Fredrickson said. "This truly was a testament to all the projects I've worked on over the years, and it put my CAD layout design skills to the test. It was a great success story."
Second Harvest's Mission is to "End Hunger Together." By helping them realize their dream of moving into a large, state-of-the-art facility, Jerry and the team at AK are proud to have helped Second Harvest in service of that mission.
Distributor: AK Material Handling Systems
Supplier: Rack Builders, Inc.
***
Automation Upgrade for 25% Efficiency Boost in Receiving and Sortation
A home entertainment distribution center in Spartanburg, South Carolina, needed to redesign its receiving and sorting system to reduce manual hand scans and improve sortation accuracy. The client, DISH Network, turned to AEC Carolina.
Originally, DISH had packages coming in on two gravity conveyors, where they were stopped and scanned by hand before being manually sorted and unboxed.
"Here in receiving it's a very labor-intense process," says DISH Network Engineer Jimmy Pollard.
"We needed to be able to take that labor and put it to a more value-added process. So, we went out to AEC seeking to improve automation in the receiving department."
Solution: Scanning the Horizon
To streamline DISH Network's process into the modern age of receiving and sorting, AEC teamed with System Plast to design and pair a Hytrol Roller Conveyor with their Modsort Divert and Transfer mods with a SICK 6-Axis Barcode Scanner and Sizing Station.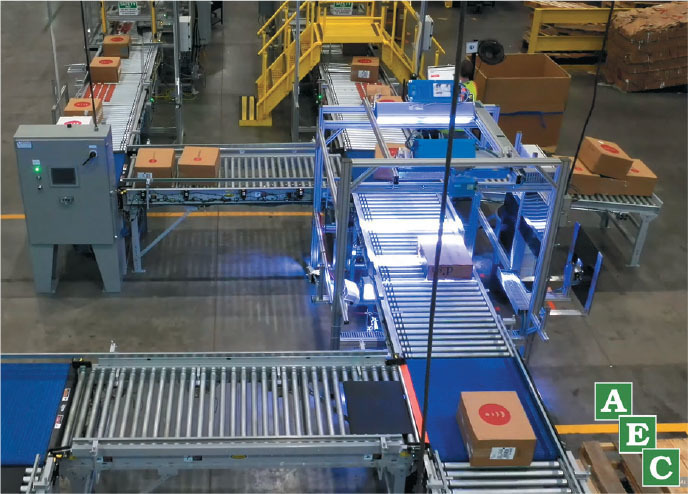 Streamlined Sort Process
The new system brings in multiple sizes and weights of packages on two separate conveyors, which are then automatically positioned onto a single conveyor using the Modsort modules.
Lined up along a single rail, the packages are then fed into a multi-surface scan tunnel for sizing and barcode scanning.
"What makes this process a more reliable sort is when it goes through the scan tunnel, it doesn't have to search the entire contents of the width of the conveyor to find the box," says AEC Material Handling Specialist Brian Hester. "You've sent it to a fixed edge, which makes it a faster, more reliable scan."
Once the packages have passed through the scan tunnel, non-accepted packages are sent down a side conveyor while accepted packages are once again split up into two conveyors.
From there, they are sent through a proprietary cutting machine, coming out the other end ready to be manually unloaded and sorted.
Saving Valuable Time and Resources
"The only people on the line now are the people putting packages onto the conveyors within the trailers. And then people further down the line are emptying the contents out of the boxes," says AEC Material Handling Specialist Brian Hester.
"Everything between those two pieces is all automated."
Hytrol's E24EZ Low-Voltage Conveyor
Safety was also increased through the use and integration of Hytrol's E24EZ Conveyor with the Modsort module which runs on 24 volts.
This low-voltage solution allows packages to be moved deliberately and evenly along the conveyor without the risks inherit to a gravity conveyor system, or the need for additional safety applications.
"The existing conveyor was built on a 24-Volt DC platform. So, we knew we could utilize the 24 DC architecture of the System Plast Modsort without the additional safety guarding that would normally go around it," says AEC President Darin Boik. "Using the E24Z was definitely a time and cost saving benefit for all."
Just a 4-Day Install to Live Operation
Over the course of just four days, starting on a Thursday evening, the old system was removed and the new system in place.
On Tuesday morning, the packages were ready to roll.
Result: 25% Boost to Overall Process Efficiency
With the new system from AEC in place, DISH Network was able to increase efficiency as well as safety, while still saving money.
"Now the automated scan system is placed exactly where we used to have people that hand-scanned product. This change allows us to move people to a more value-added process," says Pollard. "Automating this piece saves the company money – and by doing that we save our customers money and time."
Repeat Business is a Testimony to Success
By integrating these various systems so successfully, AEC was brought on to provide the same custom material handling solution for DISH Network's facility in El Paso, Texas.
"Because of the lessons we learned, we were able to finish that project in just 3 days with the same installer, so it worked out really well," says Hester.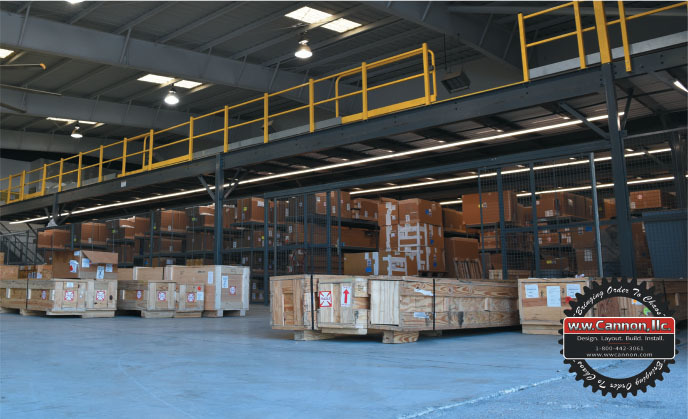 From Concept to Completion
As DISH Network's single point of contact for AEC, Hester was there from "cradle to grave" on the project.
From development and layout to equipment selection and installation, only one project manager handles everything for our client. And the result?
25% Boost in Efficiency and Improved Safety
"With the design and automation supplied by AEC, we found that we improved our overall process by 25% in efficiency," says DISH Network Engineering Manager, Robert Russel.
"Now that it's automated, we've achieved improved sortation accuracy and minimized touchpoints."
Safe, quiet, and energy efficient – another successful solution provided by Advanced Equipment Company and System Plast, custom-built to expand upon and improve DISH Network's distribution capabilities.
Distributor: Advanced Equipment Company
Supplier: Hytrol
***
300% Increase in Productivity with Storage Planning Redesign
An aircraft manufacturer, Schweizer Aircraft Corporation, in Fort Worth, Texas, had run out of space in its facility to meet demand. The manufacturer approached W.W. Cannon to discuss the issue.
Schweizer Aircraft was in expansion mode. They had crews coming in to build a number of helicopters, but the work platform W.W. Cannon had installed within their facility years prior was no longer appropriate for the workload at hand.
"I was brought in and the President of Schweizer Aircraft said 'Look, that work platform is too tall for us and we need more room. What would you do?' And so, we put together a proposal for them," said Rode Chambers, Automotive & Storage Planning Specialist for W.W. Cannon.
"What they store on that mezzanine platform is actual helicopter parts, landing pads and those kinds of things. They didn't store parts underneath the mezzanine. With the increase in helicopter production, they had additional need to store and secure parts that they didn't have before."
Chambers stayed in communication with Schweizer for several months, answering questions and assisting as needed to draw up plans for a new, more secure parts storage system.
The Solution
Using a crew of two to six working every day for about three weeks, W.W. Cannon's licensed installation team installed a new, larger mezzanine work platform integrated with secured wire partitioning. Lights were installed underneath along with rows of boltless shelving units for parts storage.
Chambers said one of the keys to their quick installation was using a pre-engineered mezzanine platform from longtime manufacturer, Cogan.
"They're like putting a jigsaw puzzle together once they get there. It saves so much time. We can install faster and allows our clients to get to work faster. We've used Cogan for years and have always had very good success with them," said Chambers.
W.W. Cannon also has great success with their professional installation team. One additional contractor was brought in to complete the electrical wiring for the under-mezzanine lighting, but no additional effort was required on the part of Schweizer.
The Result
300% increase in productivity thanks to expanded, secure storage. The new, upgraded storage platform doubled the size of their existing work and storage area, and provided a secure place to safely and easily store their influx of new parts.
"I would tell you it probably tripled their ability to produce helicopters," said Chambers.
More importantly, perhaps, is the ongoing business relationship that was strengthened due to the length of planning and swiftness of completion for the project.
"Not only have the president of the company and I become friends," said Chambers, "but he knows that if he needs something done all he needs to do is contact me and it'll get handled. I don't believe he would talk to anyone else."
By working hard to ensure that every question was answered, and every facet of the upgrade was planned, the new installation went quickly and smoothly, allowing productivity for Schweizer to soar – exactly the kind of results one can expect when working with W.W. Cannon.
Distributor: W.W. Cannon
Supplier: Cogan
***
Zero Mountain Optimizes Frozen Storage in Irregular Space
Near Fort Smith, Arkansas, Zero Mountain Cold storage was founded in 1951 with little more than a limestone cave and a dream.
In 1955, the company opened a sub-zero storage and processing vault for frozen loads. The move was just on time, as the poultry market was on the verge of exploding, with large processors located nearby in Western Arkansas. As it exhausted its underground capacity, the company opened aboveground in the 1980's with multiple locations to serve growing demand.
Zero Mountain is an elite cold storage and logistics service provider today. It ships more than 2 billion pounds of frozen food and meat every year to a diverse customer base of Fortune 500 companies. The growth was still in full swing in 2015, when the company needed more storage and processing space to build out its national logistics supply chain near its Fort Smith headquarters. Because there is a high cost to frozen storage, every inch of space is critical. The company approached Cisco-Eagle, Inc. to help it plan and implement the new facility.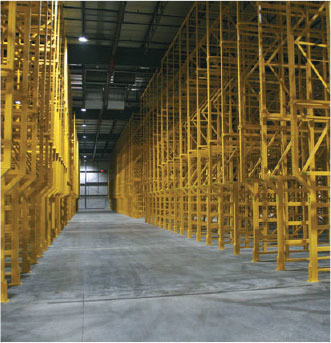 The Situation
Zero Mountain needed to increase storage capacity at its Fort Smith, Arkansas facility to accommodate its growing customer base.
"We needed to expand our warehouse 100,000 square feet between two existing buildings," said Joe Rumsey, Zero Mountain's president and CEO. "But the landscape didn't allow for a rectangular-shaped warehouse."
This irregular landscape was a design and workflow challenge for Rumsey and his team. They did not have the luxury of simple cubic space on a flat green field. "We built one side on a sloping angle," Rumsey continued. "We felt we could make it work." The challenge was to work in that configuration while maximizing that expensive frozen and cooler space – all without compromising efficiency.
The Solution
Two areas had to be considered in this solution – the new cooler area, and the frozen storage warehouse. This resulted in 71,000 square feet of cooled/frozen storage space that holds more than 8,000 pallet positions, and another 300 pallet positions for enclosed blast cells, where product is flash frozen at -30°F.
Because storage density was critical in the frozen storage warehouse, Zero Mountain opted for drive-in racks. Drive-in systems reduce the number of picking aisles, meaning that they handle up to 75% more pallets than selective racks. It's ideal for cold storage, cool storage and high-traffic operations where selectivity isn't as critical.
Steel King SK3000 drive-in rack was specified for the freezer project, as it accommodated Zero Mountain's needs – up to 4,000-pound loads of frozen poultry. The system also had to support the weight of overhead HVAC machinery in each of the company's six rack-supported blast cells. SK3000 is a bolted rack with structural channel columns, fully capable of these types of demanding projects.
With drive-in rack, forklifts drive directly into the rack to allow storage of two or more pallets deep. Due to the fact that drive-in racks require forklifts to drive into deep storage bays, they are more frequently hit by the lift, and are abused by the process. Roll-form racks are not as resistant to forklift damage, a critical concern for Rumsey and his team. "It's structural and can take more damage from a forklift," said Amanda Miller, Cisco-Eagle's project engineer.
The racks varied from two to nine pallets deep in the Zero Mountain solution, depending on the needs of the area. Also, pallet opening heights were critical: some storage areas required 100″ tall pallets (usually for retail), while others required 2,000-pound capacity pallets double-stacked for export business.
"This gave us the most pallet positions per cubic foot with the highest per pallet and overall capacity," said Miller. "The rack has 2-inch adjustability, which helps optimize for a variety of pallets and pallet sizes."
For strength, the drive-in load rails are built with tough structural angle steel and a flared entry design that eases bay access and minimizes potential forklift impact. Space-saver low-profile arms increase clearance and decrease possible product damage. Welded rail stops also improve safety by preventing loads from being pushed off the racks. To further increase rack clearance and reduce forklift impact with the rack, Zero Mountain selected an offset leg design option.
"The structural drive-in rack provides us with the strength, capacity and durability we need to withstand decades of use, where forklift impact is expected," says Rumsey.
Storage Density and Easier Selectivity in the Cool Storage Area
For 600 pallet positions of additional cooler storage, Zero Mountain opted for a two-deep pushback rack arrangement around the perimeter of the dock storage area.
Pushback pallet rack offers up to 90% more storage than selective racks and up to 400% more selectivity than drive-in racks. Unlike static, single-pallet-deep selective racks, a dynamic pushback rack system allows pallets to be stored 2-5 deep while providing access to a variety of different SKUs. Pushback racks store pallets behind each other in nested carts, which also helps reduce the number of needed forklift access aisles.
Pushback and drive-in rack share a common characteristic, in that they utilize a "last in, first out" storage dynamic, which prioritizes density over selectivity.
"The pushback rack gave us quick loading and unloading with good storage density in a dock area where most people do not usually have storage capacity," adds Rumsey. "Together, with our drive-in rack, our warehouse expansion has helped to maximize our capacity and materials efficiency."
Distributor: Cisco-Eagle
Supplier: Steel King
***
Distributor Maximizes Space, Boosts Efficiency, and Reduces Labor Costs with Roller Rack Solution from UNEX
Walk down any convenience store candy aisle, and you'll see a new product or service every other week. All that variety is great for consumers, but it can wreak havoc on the distribution center that has to store and pick the product and support the services – unless you have the perfect carton flow system in place.
In 2011, an inefficient and cumbersome pick line in an existing mezzanine area was undersized and falling apart and slowing workers down at George Falter in Baltimore, Maryland. "Our old system had lanes with plastic wheel tracks that would get busted up, and product would fall through or get hung up," explains Frank Falter, CEO of George J. Falter Co. Inc. "Plus, the layout of the area made it tough for employees to reach products easily and safely."
To address the problem, Falter turned to Werres Corporation, a materials handling solutions company based in Frederick, Maryland. "George J. Falter distributes a variety of products that go into small stores, from candy to food items," says Bill Costa, Vice President of Sales for Werres. "This type of distributor has to store a significant number of SKUs, and most of those products are going to have broken-case picking. Carton flow racking is the product of choice in this setting. We recommended UNEX's flow tracking because it's the best product for the job."
UNEX was no stranger to the folks at George J. Falter. "We had worked with UNEX a couple of years before," says Falter. "Mark Neuwirth came up with some great ideas for how to reconfigure the flow pattern for our cigarette pick operation."
So, when it came time to rethink the pick lines in a mezzanine area, Falter says he was confident that UNEX could come up with the right solution.
In the first phase of the mezzanine project, the team focused on the upper level, the pick point for grocery products and dry goods. "We had a combination of fast and slow-moving products on top of the mezzanine," explains Falter. "UNEX designed two sides of Roller Rack with Flow Bed flanking both sides of standalone wire shelving for slower movers."
"The finished area was the perfect combination of carton flow, static shelving, and conveyor," says Costa. "It was very successful."
The makeover was so effective that Falter decided to work with UNEX to create a pick line under the mezzanine deck. "It's cooler there, which is great for chocolate, and we figured we could model the flow upstairs to optimize the space under the deck," says Falter.
The UNEX design incorporated 32 bays of carton flow and approximately 45 wire deck shelving units, resulting in three pick lines: two upstairs and one u-shaped line downstairs, housing 3,000 SKUs.
Columns holding up the mezzanine initially presented a challenge to the design team. "We worked with UNEX to figure out a way to make sure pickers could work around the columns and maximize the use of the space," says Costa. UNEX customized its roller system so that shelving actually went through the columns. "That's the thing about UNEX. The team is up for challenges," says Falter. "They work with you until they design a good, cost-effective solution."
Maximize the Use of Space
"Manufacturers come out with new SKUs every month. We're always trying to use every square foot that we can. UNEX solutions help us maximize space because we can put any size box next to another, which creates more pick faces in the carton flow area."
Reduce Walking Time
"Having the product in a good spot where it can be picked efficiently can save you time and money. UNEX's designs minimize walk time, and that means higher productivity."
Improve Ergonomics
"Everything is within 5 feet with carton flow from UNEX. There's less bending, reaching, and walking so that pickers can do their work safely and quickly."
"When I talk to customers, there are three key things they usually want to know: How to use their space better, more efficiently, and with fewer people," says Costa. "UNEX helped George J. Falter achieve all three."
Falter says that Roller Rack and Flow Bed from UNEX have generated multiple benefits for the distribution center. Between previous improvements to the cigarette picking area and the mezzanine improvements, Falter says he's been able to reduce the number of pickers by a third.
Neuwirth is quick to note that the Falter team's hands-on approach was a key factor in the successful transition. The Falter team phased-in the additional pick lines, which prevented interruptions to the day-to-day business.
Distributor: Werres Corporation
Supplier: UNEX
***
New Mezzanine Platforms, VRCs and Safety Products Help Baker Distributing Better Serve Its Customers
It's a question that thousands of companies face every year: what's the most cost-effective way to expand my facility?
Evaluating goals, objectives and long-term needs often leads executives to either streamline their existing facilities to find space or build outward by adding on to their building as a way to accommodate growth. But rather than looking out, one solution that's becoming a popular option can be found by looking up … and that's exactly what Baker Distributing did.
Vermont-based Baker Distributing solved its expansion dilemma by installing four industrial steel work platforms (mezzanines) and two vertical reciprocating conveyors (VRCs) at its two facilities, and the company hasn't looked back since.
"The mezzanine platforms made a lot of sense to us because we were already heating the space, and we had room above us to expand," said Gerry Couture, general manager, Baker Distributing. "In hindsight, it was a smart decision."
That decision was based on the recommendation of Steve and Scott Fawcett, CEO and president respectively, of Londonderry, N.H.- based Bode Equipment Co., who has worked closely with Baker Distributing for nearly 30 years.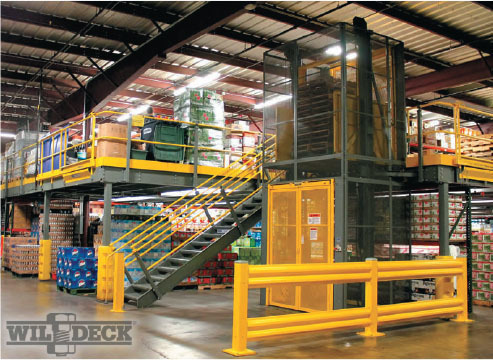 "Most customers will come to you with a perceived notion of what needs to be done, but Baker was open to starting a partnership right from the beginning," Scott Fawcett said. "Steve has been calling on them for 25 years and that trust was key in this project. And we're really fortunate to work with Wildeck on the supplier side as we have confidence in their whole team to provide the right solution for our customers."
Founded in 1965 by brothers David Sr. and Joseph Baker Jr., Baker Distributing carries a wide variety of alcoholic and nonalcoholic products; servicing more than 1,200 retailers throughout the state of Vermont. Today the company is operated by a second generation of family members, David Jr. and Mike, and has more than 220 workers at its two Vermont distribution facilities in Colchester and North Clarendon.
The push for expansion came in part from the brands Baker carries expanding their portfolio of products by means of line extensions. For example, some brands are now offering several different flavors – and those products need to be incorporated into the distribution process. This ongoing trend within the beverage industry has resulted in new SKUs – and the immediate need to create more space.
"Our industry is continually increasing with SKUs and line extensions. You need more space for all those SKUs, so these platforms allow us to better accommodate the trends in our industry," Couture said.
Couture relied on Fawcett and his knowledge of material handling solutions to help devise an expansion plan that would best suit Baker's needs. The initial plan was to expand the company's north warehouse in Colchester. That facility had a limited footprint to work with, and the logical and cost competitive solution was to utilize the open overhead space. Fawcett believed the Baker operation would be a perfect candidate for an industrial steel mezzanine platform.
He designed a plan that called for the installation of two mezzanine platforms, combined with a VRC and a variety of safety gates and guard rail. One platform is long and narrow, 14 × 127 feet, and was built to fit alongside the building wall; the second platform measures 97 × 80, and is located in the pallet staging area in the back corner. The top of the narrow platform is used to house point-of-sale goods and displays. Baker relocated the small order picking operation on the second platform, freeing up valuable ground level space for other functions.
"The mezzanine platforms gave us a lot more space to pick the line, which is huge for us," Couture said.
The relocation of small order picking to the top of the platform also includes order picking for wine bottles; having product and employees off the ground floor and away from busy forklift traffic increases safety.
The VRC at Baker is perfect for safely transferring materials from one level to the next. The VRCs comply with ANSI/ASME B20.1 safety standards for conveyors; can lift several thousand pounds of material in an enclosed platform; greatly enhance warehouse safety and productivity; and come with safeguards, like Wildeck's patented AutoSenz® Overload Detection System (U.S. Patent No. 7,408,317), to prevent jams, product spillage or equipment malfunction.
"Having a VRC works great for us because we needed an apparatus to bring wine product down from the second level without disturbing the built pallet, and coming down on a forklift wasn't the answer, otherwise we'd lose product," Couture said. "The thing I love about the VRCs is that we're building pallets for customers, and they can be very unstable due to their different shapes and sizes. The VRCs allow us to bring them down to the first level without any breakage. VRCs really made the best sense for us."
In addition to the VRC, the mezzanine platform has two gates that allow pallets to be on- and off-loaded from a forklift.
The positive results of the Wildeck® platform, VRC and safety gates in Baker's Colchester warehouse allowed management to look at replicating a similar setup at its North Clarendon warehouse … and it did just that. Two mezzanine platforms, a VRC and safety gates were installed there in 2014. Although the platforms at both locations are similar in size and scope, their framing structures are different: the Colchester platforms use I-Beams whereas one of the two platforms in North Clarendon use bar joists. This flexibility and creativity in Wildeck's framing options gives customers like Baker more choices in purchasing a platform that meets their exact specifications and load requirements. The footprint of the warehouse in North Clarendon was such that Baker wanted a mezzanine platform with columns spread further apart, but also desired a more open deck for utilities; thus, the bar joist and truss girder design was selected.
Both warehouses have multiple forklifts operating during two shifts. To help protect the VRCs, Wilgard® Guard Rail was installed, and is also used to protect other equipment such as shrink-wrap machines.
"We didn't have a concern that Wildeck would be the bottleneck in these projects," Fawcett said. "We worked closely with Wildeck and it was the right decision. These solutions worked out great for Baker."
"Time and again Bode proves itself to be a soup-to-nuts first class company," Couture said. "Their recommendation of Wildeck was right on the money. We couldn't be happier with the solutions Wildeck and Bode provided."
Distributor: Bode Equipment Company
Supplier: Wildeck
***
A Storage Locker for a Pizza Restaurant
WireCrafters' storage lockers and cages are extremely effective in separating, organizing, and securing products and inventory. Although they are commonly used by technicians in manufacturing or tenants for property management, this equipment has been extremely helpful for many other industries too, such as retail stores, wine storage, and more!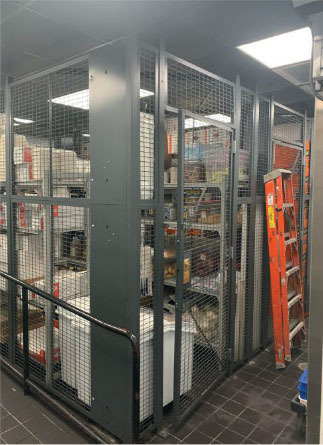 Pizzeria Portofino experienced space limitations and unique storage needs for certain food types, not to mention the many FDA regulations they must meet. WireCrafters storage lockers were customized so that the restaurant could separate their products into 2 sections with a center partition and 2 separate doors. One side would store dry foods and the other side for storing liquor. Adjustable panels were also used for this product in order to meet their important deadlines and so that small variables could be made within the plan. The final result was a clean, efficient, and effective way to store and secure the restaurant's food inventory.
WireCrafters has a passion for making projects like this as simple and effective as possible. The company also loves supporting local restaurants. According to Matt Bielle, of CSI Materials Handling, who worked with WireCrafters on the project, "Their sales team is a group of exceptional people who REALLY know their product. You bring them your project. Give them the details, even the boring ones that you may think are irrelevant. Tell them you're storing liquor, or that you're not sure of certain dimensions. They take everything you tell them into account and do a wonderful job of making suggestions to provide you and the end-user with the very best solution each and every time."
Distributor: CSI Materials Handling
Supplier: WireCrafters
***
Automation Upgrade to Future-Proof the Paint Blending & Processing Industry
Corob is a world leader in automated tinting, dispensing, and blending solutions for the paint coating industry for both in-plant processes as well as retail point-of-sales equipment.
But paint is an old industry where pails and buckets used to be filled from large tanks using a hand-turned valve, and then labeled and sealed by hand.
In order to better serve the evolving needs of this industry, Corob went in search of someone who could help design, engineer and build a brand-new, complete filling solution.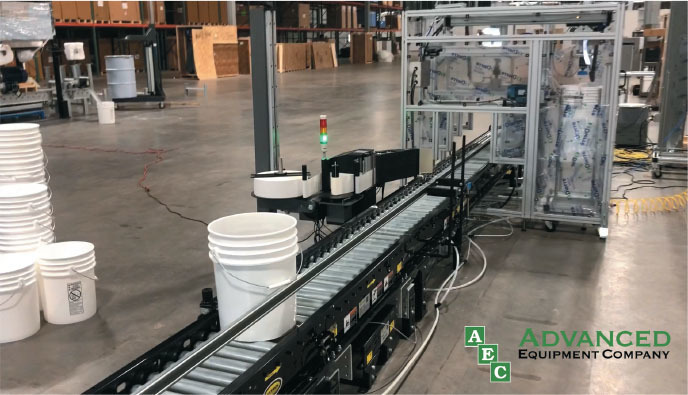 "It's a new application," says Jack Walsh, President and Managing Director at Corob North America.
"As the customer's volume is increasing, right now it's challenging for paint companies to keep full-time workers – and it's getting more expensive. So, you need to automate the filling process, and that's where we came to AEC."
Having worked with Advanced Equipment Company in the past, Walsh knew he could count on AEC to get the job done right.
"I've dealt with a lot of suppliers in my previous role, and so the service and relationships are huge deals in my opinion," says Walsh.
"When you're figuring things out on the fly, you need somebody that can help with suggestions, drawings, and best practices. AEC does that."
Accepting the challenge, AEC began working with Corob to develop a solution that would usher in a new, automated future for the paint and coatings industry.
Solution: Meeting Increased Demand with Automation 4.0
To design and create a new automation system, we first have to understand the islands of automation – or the individual pieces required to complete the process.
Corob had filling, labeling, capping and sealing systems, as well as the Novaflow front-end system and software, that allows for managing batches, matching color and connecting to a customer's Enterprise Resource Planning (ERP) system.
Corab systems combined with AEC's Hytrol conveyor and scale system, completed what is known as an "Industry 4.0" process. Islands of automation are connected physically along with data connection and information flow.
Precise Filling
As an empty pail or gallon is loaded onto the conveyor, it moves down the line to our custom-designed scale application. The conveyor lowers, allowing the empty container to rest on the scale fingers reaching up through the rollers.
Corob's automated dispensing unit, using continuous feedback from the scale, then fills the container to the desired weight. The filling process slows towards the end so that the container is always within 1% of the desired weight.
Accurate Labeling
Once full, the container is raised back up via the Hytrol conveyor then moved on through an automated label system. The label wraps around the container as it passes by, with no stop in the conveyor's motion.
Auto Lid Capping
Next comes Corob's automated Pick-and-Place Lid System – the final process where the lid is placed, pressed and snapped shut so the container can be shipped safely. For efficiency, the system can easily be refilled from the side without halting production.
Streamlined Process
The final product, a container that has been filled, weighed, labeled and sealed, then rolls to the end of the line where it can be palletized and shipped.
"The good news is, we can now standardize the equipment," says Charlie Williamson, conveyor specialist at Advanced Equipment Company.
"Though no two systems are exactly the same, the same engineering and design can be applied. The process has been streamlined to make it easy for Corob to go to their customers and adapt it to whatever system they're currently using."
Maximized Efficiency, Quality, Accuracy, and Safety
By customizing the Hytrol conveyor to integrate seamlessly with Corob's paint filling, labeling and capping system, customers can now go from empty pails to ready-to-ship product. Connection to ERP systems for easy monitoring, tracking and logging make future efficiency adjustments possible.
"Working with AEC was seamless," says Walsh.
"We came out with a nice finished product and our client is extremely excited – and that is not an exaggeration."
"It is so refreshing to work with Jack and his team," says Williamson.
"We bump up against a problem and we just say, 'how do we best take care of it together' and you can really solve problems when everybody has that kind of attitude. It's been fun for me to work on projects with the people at Corob."
Result: Future-Proofing the Paint Industry
Thanks to Corob and AEC, the paint industry has been future-proofed with an automated solution that brings a wide number of new benefits.
"Benefit number one is increased productivity," says Walsh. "Now it takes just 1 to 1.5 people running the system with higher throughput rates, where multiple people were once needed operating at a slower pace."
"Multiple benefits are gained with quality and accuracy. The scale ensures precise measurements – guaranteeing that whatever the customer bought, they're getting. And with automated, virtually fault-free labeling on the products, Hazmat shipping is no longer a hassle."
"Lastly, we're eliminating ergonomic issues. Placing a lid on a pail isn't hard, but closing it requires somebody to hammer it. This action, done repetitively and over time, can cause injury. It also leaves room for error with improper sealing. Now that the hammering is automated, we eliminate injury and ensure the lid is 100% secured."
"I'm very proud of everybody," says Walsh. "A lot of people were involved, and the solution works great."
"Plus, U.S. customers really like dealing with U.S. suppliers and U.S. products. Bringing AEC and Hytrol to the table with Corob is really giving our customer what they want."
Distributor: Advanced Equipment Company
Supplier: Hytrol